Safe, effective and environmentally friendly
industrial corrosion protection solutions.
Corrosion Protection Products
Barrier Film Corrosion Protection
The CORR-EX ® division of EnviroTech Europe supply specialist corrosion protection products sourced from manufacturers worldwide, based on synthetic materials to provide a range of quality products to solve lubrication and corrosion problems.
We offer solutions which are unexcelled in preventing deterioration and contamination of metal surfaces. Solutions for derusting, passivation, sealing and packaging are included in our product range.

A proprietary formulation containing extremely long lasting anticorrosion inhibitors, which also give superior lubrication coefficients and protect components against moisture.
This unique, water displacing lubricant, with synthetic corrosion prevention compounds is tested and proven non-flammable and environmentally friendly without sulphates, chlorides or other halogens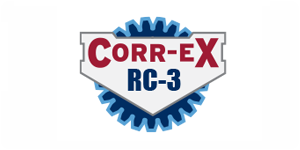 Corrosion protective packaging for storage of cleaned machined parts, to prevent in-storage corrosion using volatile corrosion inhibitors.
Anti-corrosion packaging is compatible with all metals and many plastics and other composite materials. Packaging is manufactured from polythene or PPE film impregnated with volatile corrosion control agents which are safe on the parts, for operators to handle and have no impact on the environment.
Industry Applications
CORR-EX ® products help with corrosion protection for a wide range of industries:
Further information
We can provide you with a Material Safety Data Sheet, independent laboratory reports, product samples or technical assistance. For more information or advice please contact us by telephone on +44 (0) 20 8281 6370 or use our contact form.
CORR-EX corrosion protection products are supplied and supported by EnviroTech Europe Ltd. Manufactured in the United Kingdom and available on short delivery times through our dedicated team of distributors in Europe and the Middle East.