SuperCORR A
Electronics
And Electrical Corrosion
SuperCORR A
Electronics
And Electrical Corrosion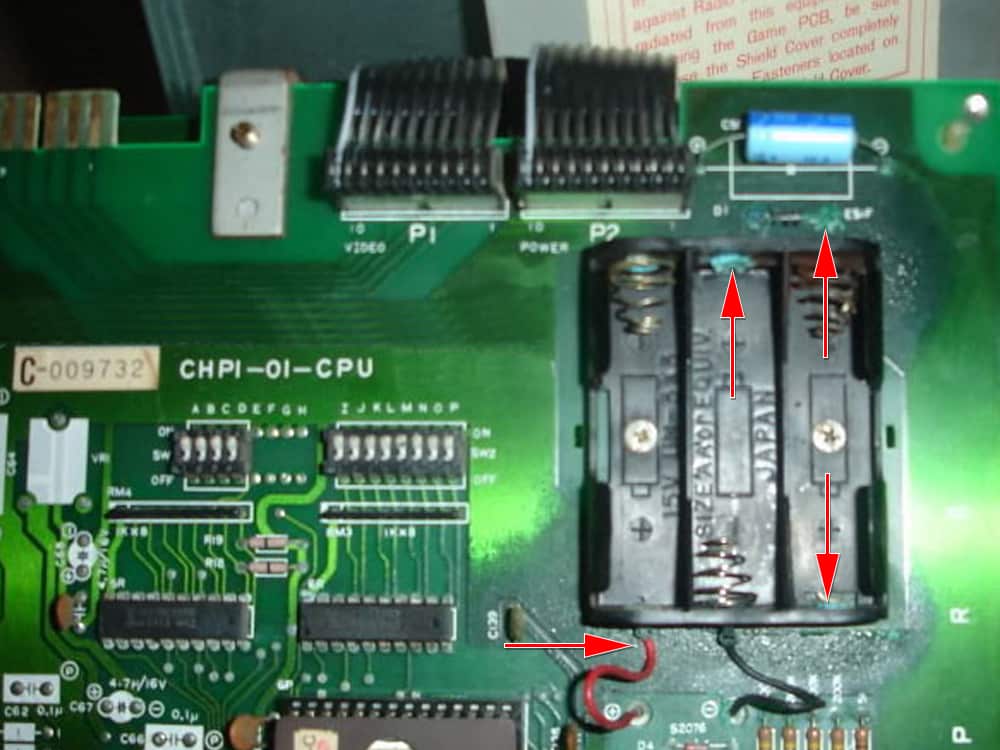 Corrosion Of Electrical Components
Left: Corroded PCB Circuit Board – Corroded areas marked in red.
If your £1,500 computer fails because of a circuit board being corroded that is a relatively inexpensive repair. If your car won't start because the battery terminals are corroded that is an annoyance and may make you late for an appointment but it is also a fairly inexpensive repair. If an electrical cable connector that connects the on board electronics to the main power supply were to fail because of corrosion on the Eurostar while it was in the Chunnel that would be more than just an inexpensive annoyance. A ship loses its communication on its way in to the harbor because of corrosion at the antenna base can be very problematic if they don't have a stand by radio antenna.
Corrosion of electrical components is very prevalent problem and one that can be prevented. Preventing moisture from coming in to contact with the electrical components is the key.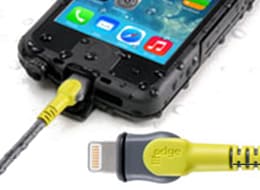 Case Study
LEFT :

Sync Cable for Apple IPhone and Android Smart Phones from Lifedge

.
SuperCORR A is used to protect contacts on the new

Lifedge

lightning connector to USB cable to offer the protection needed in extreme conditions.  Developed for use in all outdoor activities including sailing, hiking, military, naval, surveying or other challenging uses. With an ultra-durable outer coating that will never fray and double-moulded, super-tough plugs, charging, downloading and data transfer is improved even in the most extreme and difficult conditions. 

Read more

.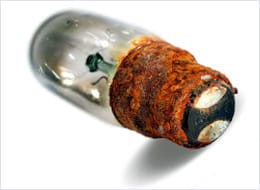 Case Study
LEFT :

Untreated corroded lightbulb.
TA chemical warehouse storing acids and other corrosive materials had continuous problems servicing the lighting system. One man with a helper to hold the ladder had a full time job removing and replacing bulbs which had corroded into holders. The filaments failed as the current resistance through the corroded surfaces increased.
A spray of SuperCORR A onto the bulb connector and the holder solved the problem. Now bulbs are changed as required but it is now part of routine maintenance. Savings of thousands of dollars per year in man hours and hundreds of bulbs.

Read more

.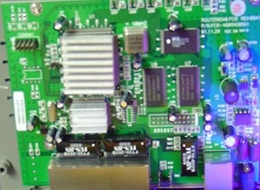 Case Study
LEFT : A circuit board under a black light that was partially coated with an ultra thin film of SuperCORR A/UV.
The UV version of SuperCORR A gives visual indication of the integrity of the coating and allows recoating after maintenance.
SuperCORR A was tested by a leading international computer manufacturer for evaporative weight loss (a primary indicator of corrosion-inhibitor/lubricant effectiveness). After 1000 hours of exposure at 80°C SuperCORR Ahad a weight loss of 40% (30% after 160 hours), the lowest of all the materials tested.
Electronics And Electrical Corrosion Prevention
Very fast drying environmentally acceptable solvents are used as carriers which will not affect most plastics, substrates, metals or other materials used in PCB or component manufacture. The low surface tension repels water from blind holes and surfaces to produce a coating which allows easy maintenance and removal and replacement of failed components.
Specially Formulated Anti-Corrosive Inhibitors
Further information
We can provide you with a Material Safety Data Sheet, independent laboratory reports, product samples or technical assistance. For more information or advice please contact us by telephone on +44 (0) 20 8281 6370 or use our contact form.
CORR-EX corrosion protection products are supplied and supported by EnviroTech Europe Ltd.  Manufactured in the United Kingdom and available on short delivery times through our dedicated team of distributors in Europe and the Middle East.